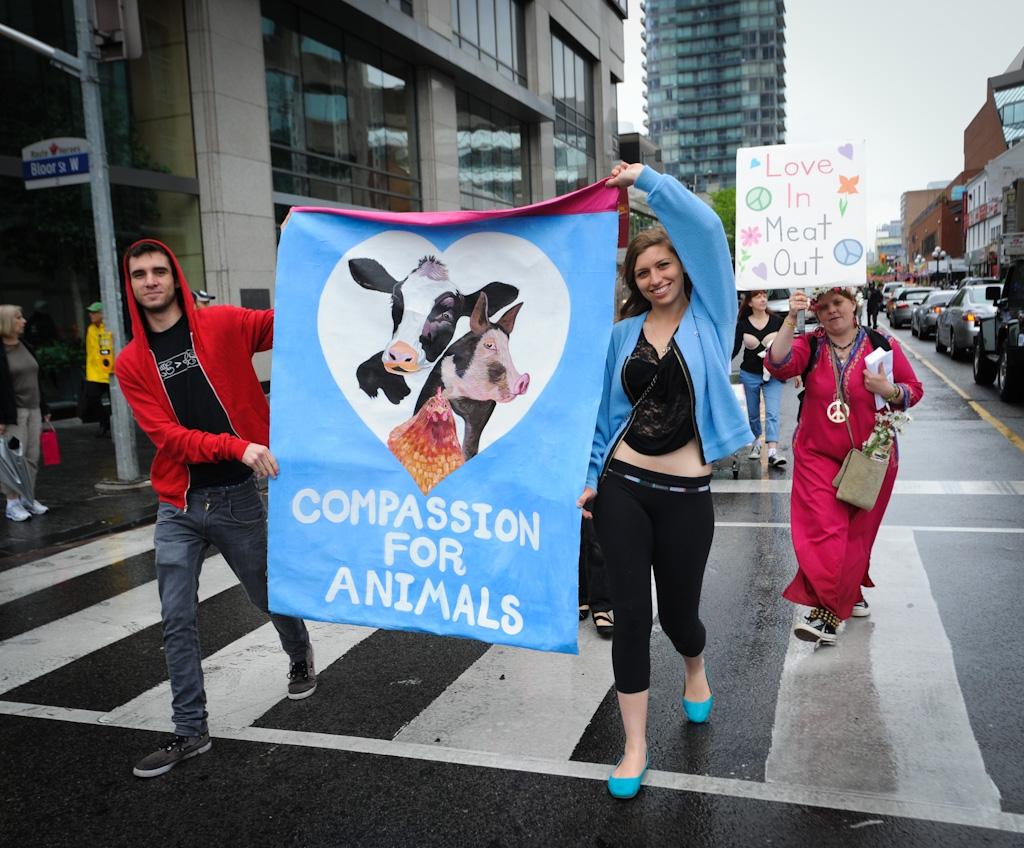 Top‌ ‌Vegan‌ Activists‌ ‌And‌ ‌Their‌ ‌Influence
Over the last couple of decades, animal rights have become a trending topic. Many celebrities, famous personalities, and activists have shown a keen interest in veganism. Additionally, they are also promoting the usage of plant-based products. 
Moreover, the increase in the availability of plant-based products in grocery stores and drugstores  is a massive indication of the vegan movement's extent.
Social media apps and streaming platforms have been an enormous catalyst of this movement spreading. In fact, 1,841 people suggested that the first thing that made them consider going vegan was a video clip online.
The role of influencers and YouTubers to promote this veganism is massive. Youtube has been an essential platform for users across the world. Nowadays , it has become an important tool to influence human behavior instead of just entertainment. It is frequently utilized as a catalyst for online and offline activism. Thus, it is essential to learn about some prominent vegan activists from different professions and occupations. 
Some of the most prominent vegan activists
Gary Yourofsky:

He is arguably the most influential vegan activist in the world. His YouTube video 'The best speech you will ever hear' has over 5 million views and turned more people vegan than any other video online. This very video went viral due to Gary's limitless knowledge about the topic and his determination to prevent the harm caused to animals. His speeches were heard by half of the world because of his intensive touring. Furthermore, his tour to Israel sparked the massive animal rights movement there. Now, Israel is considered the most vegan country in the world. It is no secret that Gary has helped the most persecuted victims of this world during his decorated career.
 PC: Youtube.com
Caldwell Esselstyn:

Caldwell Esselstyn is an American physician and author, known for campaigning for plant-based diets. His vision is to have a diet that abstains from any animal based products. He is a firm believer that animals shouldn't be harmed for the shallow purpose of consuming food. Moreover, he also is a survivor of the coronary artery disease and consumes vegan products for better health. The best way for a person to avoid chronic diseases is to eliminate the presence of meat in their diet. He's also been featured in popular healthy eating documentaries. He's both a well-known figure and one of the most influential vegans out there.



Alicia Silverstone:

Known for her acting in the 90s, Alicia turned vegan back in 1998. Ever since then, she has been a famous persona in the fight for animal rights. She has even dedicated a lot of energy to creating a vegan cooking guide, 'The Kind Diet.' This book went on to top the New York bestsellers list. She is even part of an associated lifestyle and food website. Thus, she is considered an influential vegan activist ever since 1998.
PC: Foodnetwork.com
Joaquin Phoenix:

Joaquin Phoenix is very public about his ideas on animal rights and plant-based products. He is known for his art, which always is a means for change. From animal rights activism to narrating animal rights documentaries, he has been part of the vegan movement for a long time. In the 2003 Disney movie 'Brother Bear,' the topic of veganism is at its core, and he has lent his voice in the film for the same purpose.
PC: Wikidata.org
Angela Davis:

Considered one of the most potent protesters in modern history, Angela Davis is also a considerable part of the vegan community. It is no surprise that she is part of the most influential animal rights activists list. Though it is only one of her causes, her popularity and public speaking arrangements give her a more prominent veganism voice than most.
PC: Time.com/collection
Russell Simmons:

Co-founder of Def Jam Records, he is a successful mogul. With a $325 million net worth, it is an understatement to call him an influential person. He has been vegan since 1999 and continues to spread his word about the importance of the vegan movement. He has combined his fame with support for groups like PETA. Thus, it is evident that he is a true champion of social change. Simmons also advocates for a vegan diet's health benefits, for which he is a real example. 
PC: Variety.com
Ingrid Newkirk:

It would be shocking to not see the President and Co-founder of one of the largest animal rights groups on the planet as a part of this list. She spends a lot of time in conferences promoting vegan beliefs. Having helped many people convert to a healthy and ethical way of eating, she truly helps animals live their lives without any brutality.
PC: Peta.org
Erin Janus:

As mentioned before, YouTube is one of the most popular streaming platforms globally. Moreover, it provides a brilliant interface for changing people's opinions. Popular YouTuber Erin Janus is also a huge animal rights activist. Her video 'Dairy is Scary' has over 5.2 million views and continues to be one of the most influential videos on the web. Her channel itself has 14 uploads, out of which 2/3rds are directly related to veganism. How she speaks is perfect for engaging audiences of all age groups, making the issues perfectly palatable for the masses.
PC: Idausa.org
Hannah Howlett:

She is an American vegan vlogger famous for losing 60lbs on a vegan potato diet. Documenting her progress on YouTube, she gained popularity all over the world. She also wrote a book of plant-based recipes for a healthy lifestyle. She continually fights for animal rights and is known for motivating her followers to live a healthy life.
PC: Instagram.com/highcarbhannah
Vegan diets are enjoying a bit of a renaissance in recent years. Having a vegan diet is advantageous not just for the lives of animals but also for your health. Thus, numerous activists are promoting the consumption of plant-based products. The activists mentioned above are some of the most powerful in the world, doing their best work for the very motive of an animal-friendly world.