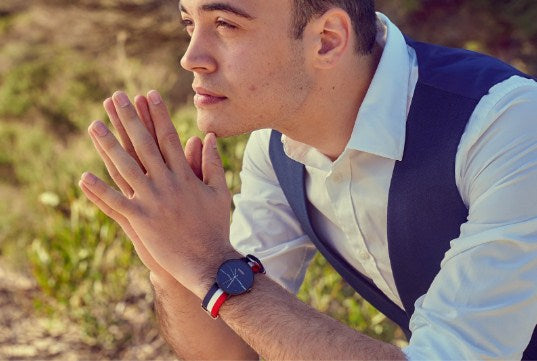 4 Reasons Why Vegan Watches will Look Perfect on Your Wrist
You might have heard about 'Vegan Fashion' a lot, but what is it exactly?
Well, it's clothing and accessories that don't contain any animal by-products and are 100% cruelty-free.
Vegan cloth and men faux leather watch has taken over the fashion game, and well they are rocking it! 
The Good thing is that men's faux leather watches are as stylish as your mainstream fashionable leather watches, and there is no visible difference between the two.
Apart from that, by buying vegan leather watches, you can make an 'invisible' difference in the lives of animals and the environment. 
Also, it's time for being sustainable and eco-conscious about your choices. You can start by buying vegan leather watches. 
How can Vegan Watches be Perfect for You?
Environment- Friendly
If you care about the environment and want to make a difference, then men's faux leather watch might be the perfect start for you. By choosing vegan leather watches, you can reduce the use of animal products and allow nature to create its natural ecosystem. 
We know some of you might think that it's just a leather watch, but remember that hundreds of animals are being killed each day for the fashion industry. 
Stylish and Sophisticated Design
A Vegan leather watch in a minimalist design gives it a more sophisticated look and unique attractiveness. It doesn't matter whether you're wearing these watches at a casual or formal event; it just looks great and goes well with every outfit.
Reflects your Ethics
Yes, any men's faux leather watch shows your life-ethics and your vegan lifestyle. In today's busy life,  most of us have stopped thinking about how our present actions are affecting animals and the environment.
However, today's modern world is full of choices, and it's your choice whether you want to wear a dead animal's skin on your wrist or choose a vegan watch strap. 
More Sustainability
Making vegan leather includes many natural materials and synthetics, such as plastics, which offer more sustainability. When you start to dig deep in it, buying a vegan leather watch is a more sustainable choice than a real leather watch. 
Apart from this, vegan leather watches are thinner and lighter than your leather watches making it more comfortable. 
We believe that these reasons are enough to understand how choosing to buy vegan leather watches can make a positive impact.
However, if you're still confused, you can check LA ENVIRO collection of men's vegan watches. They are elegant and at the same time look classy. Our 10% of the sales go to charity. You can help us in this social cause, be a responsible human, and contribute to the planet.
We hope that getting rid of your standard fashion accessories and choosing to go for vegan products is not sounding boring any longer, right? 
So, let's take a step ahead and make sure that our fashion needs don't harm our animals and the environment.