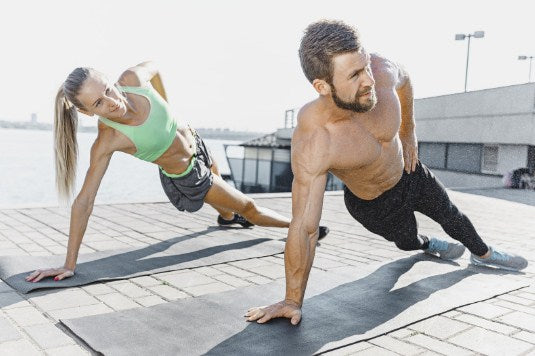 5 Trending Vegan Protein Powders
Being on a Vegan diet does not mean that you missed out or skip protein from your diet. 
Protein is the major nutrient supplement that refuels your body. If you too remain conscious about your diet and health, then here are the 5 best vegan protein powders you can opt. 
In this article, we will be discussing the detail of the different types of vegan protein powders that offer you ultimate health benefits. 
Stay tuned to grab the best information. 
Vegan Protein Powders Review
Many plant products are a rich source of protein that proves to be beneficial for your health. So, consuming such food proves to be highly beneficial for your health. 
Despite the regular diet and food, including some extra nutrients in the form of powder, etc gives you extra energy and helps in building a healthy body and mind. 
To get the best protein powder, it is good to check for the ingredient, recipe, and price of the powder available easily. 
Trending Vegan Protein Powders 
1. NAKED Pea Protein 
PC - Naked Pea
Often people get confused with the name of the Protein Powder, but in actuality this protein powder is not made from the sweet green peas. 
Instead, it is made of the protein-rich yellow split peas and is low in essential amino acid methionine. 
However, it is the rich source of branched-chain amino acids like leucine, isoleucine, and valine that helps in repairing and building muscles. 
Consuming around 28 grams of the pea protein powder delivers 21 grams of protein and 100 calories. 
So, if you are looking for the muscle gain then this is the one you must opt for. 
2. Nutiva Organic Hemp Protein
PC - Hemp Protein 
Prepared from the seeds of cannabis with the little euphoric effect due to Tetrahydrocannabinol (THC) is the best source for blood pressure-lowering compounds. 
Apart from protein, it is the best source of other nutrients and minerals like zinc, magnesium, iron, and alpha-linolenic acid (ALA).
3. NAKED Brown Rice Protein 
PC- Naked Rice
Another protein powder in the list that is relatively inexpensive too helps in supporting and growing muscles. 
Consuming 28 grams of unflavoured brown rice protein gives you 107 calories and 22 grams of protein. Although low in essential amino acid but a good source of branched-chain Amino Acids that supports muscles. 
4. TERA's Organic Pumpkin Seed Protein
PC - Tera
In general, pumpkin seeds are a rich source of protein and healthy fat, but when converted to powder, fat is removed thus reducing the overall calories. 
You can have good magnesium, zinc, iron, and other minerals along with the essential amino acid-like threonine and lysine. Not only it is about nutrients, but the pumpkin protein powder also has some antioxidants and anti-inflammatory properties. 
Consuming a quarter cup of protein powder provides you 103 calories and 18 g of protein which when consumed in the right way and quantity helps in reducing cholesterol. 
4. SFPRO Sunflower Seed Protein
PC - SFPro
Sunflower seed protein powder is low in essential amino acid, lysine, but is the good source of another essential amino acid. 
As it contains 7% fat, 23% dietary fiber, and 53 % vegetable protein, consuming it offers many health benefits including an increase in muscle strength with the little or no side-effects. 
No wonder, it is one of the best choices of the vegans, recreational athletes, and people with a lactose allergy.
Wrapping Up
So, above is the list of some of the best protein powder that proves to be beneficial to your health. 
You can avail any one of them easily from the online or any store near you. Before making a final purchase, it is always good to check for all the ingredients and make sure you pick the one that meets your objective of consuming protein powder.