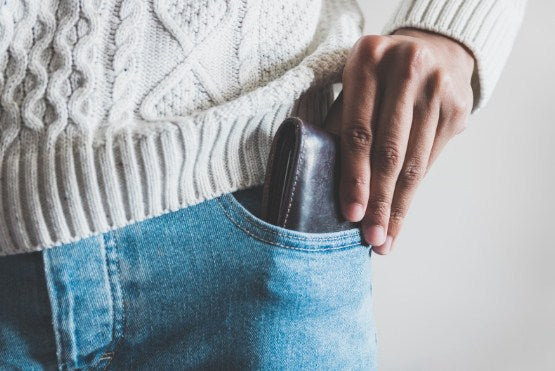 Introducing 4 Ultra-Sleek Vegan Minimalist Wallets from LA ENVIRO
A wallet isn't just a handy carrier for your essentials. It can act as your chief organizer, secretary, and even a good friend. Therefore, you must pick a wallet that works for you.
Minimalism is a hot trend right now. In a world where overconsumption has become an epidemic, many people are opting to have and own less. 
Our new range of unisex minimalist wallets is the perfect companion for any minimalist individual on the go.
Why Go Minimal?
Once upon a time, men's wallets and women's wallets would be full to the brim with anything from cash to receipts that we collected years ago. We would get our big fat wallet and stuff it in our pants pocket or handbag.
It was a nuisance. You'd spend thirty minutes looking for the right change to buy a loaf of bread, or you'd have to flick through a billion receipts to find our cinema ticket you just bought two minutes ago.
Now, we have apps for everything. You rarely ever need cash anymore, or cards because everything can be paid via our smartphone. 
Enter the minimalist wallets.
A new breed of ultra-stylish and ultra-light wallets designed to only carry the absolute essentials like your credit card, ID card, driver's license, and maybe a few cash notes. It fits right into your pocket and won't weigh you down.
LA ENVIRO's Brand New Range of Minimalist Wallets
We've just launched four ultra-sleek and beautiful minimalist, Vegan wallet Australia. Each has been carefully crafted with cutting edge materials and technology. This is the future of wallets. 
New Age Materials
Carbon fiber, metal, or vegan leather? Each is innovative and brings to the table a unique set of features. 
Carbon fiber is an ultra-strong futuristic material that will keep your wallet safe. It is adverse to large dents, scratches, and damage from impact. 
Our metal minimalist wallet is slim and ultra-light. The beautiful metal used retains its strength while remaining tough against the elements.
Our premium vegan leather looks and feels just like regular leather. It's strong, durable, and stylish. Perfect for those after a smart and professional looking minimalist wallet.
Cutting Edge Technology 
Each of our minimalist wallets comes with built-in RFID blocking protection design. This helps you keep your credit cards and ID cards safe from modern thieves' scanning devices. Ensure your private information and data are secure.
Ultra-Slim Design
Minimal means less, so our minimalist vegan wallets are ultra-slim and light. They're significantly thinner than your average wallet holding six cards at a maximum. The ultra-slim design makes the wallets comfortable and convenient, not weighing you or your bag down.
Finding your cards and cash has never been easier! The perfect cardholder. 
Clip and Go
Our minimalist Vegan wallet feature a handy money clip and elastic webbing for your convenience. The classic money clip is made using spring steel that firmly holds cash into place. The elastic webbing is designed to improve the wallet's holding capacity, making it the perfect cardholder. 
Peta-Approved
All our minimalist wallets are PETA-Approved, which confirms that our vegan wallets are animal-friendly and use no animal-derived materials. LA ENVIRO  is a vegan company that seeks to innovate the fashion industry without using animals while simultaneously reducing the impact of our work on the planet.
The Extras 
All our minimalist wallets are delivered in a beautiful gift box that protects your new wallet and is the perfect gift for yourself or others.
Each minimalist wallet also comes with free worldwide shipping! You can also choose to pay the full amount straight away or spread the cost over 4 interest-free fortnightly payments.
Introducing the Minimalist Wallets 
There are four ultra-sleek minimalist wallets to choose from, including carbon fiber, metal, and two versions of premium vegan leather.
Minimalist Unisex Metal Wallet Black
The black metal minimalist wallet is a classic design and suited to anyone after something simple but beautiful. The metal wallets are innovative and futuristic, perfect for anyone with a smart and minimal style.
Forget about leather, metal is the new way to go for those moments you pull out your credit card to really reflect your personal style. RFID proof and crush proof metal wallets are the way to go.
Minimalist Unisex Metal Wallet Carbon Fiber
Much like the metal wallet above, carbon fiber reflects your futuristic and minimal style. They're RFID proof and crush proof using one of the most durable materials known on earth. Carbon fiber is the stuff they use on anything from the best road bikes to space shuttles. 
Carbon fiber is well known for its strength and durability, this a wallet that won't let you down. It also looks pretty damn cool. It's also RFID proof and crush proof!
Minimalist Unisex Vegan Leather Wallet - Black
Some people just love the look and feel of leather. But many are choosing alternative leathers or vegan leathers. Introducing the LA ENVIRO vegan leather minimalist wallet. It feels, looks, and performs like cow leather but is animal-friendly and 100% certified vegan and PETA-Approved.
The black vegan leather wallet is perfect for business or personal use. It exudes professionalism and style. 
Minimalist Unisex Vegan Leather Wallet - Brown
For those who dislike the look of black leather, we have the vegan leather wallet in brown also. This one is perfect for casual or smart casual affairs and exudes elegance. 
The vegan leather is strong, durable, and stylish. This wallet will last you a long time and service you right. Each vegan leather wallet features a solid interior card chamber made from aluminum that can store up to six cards.