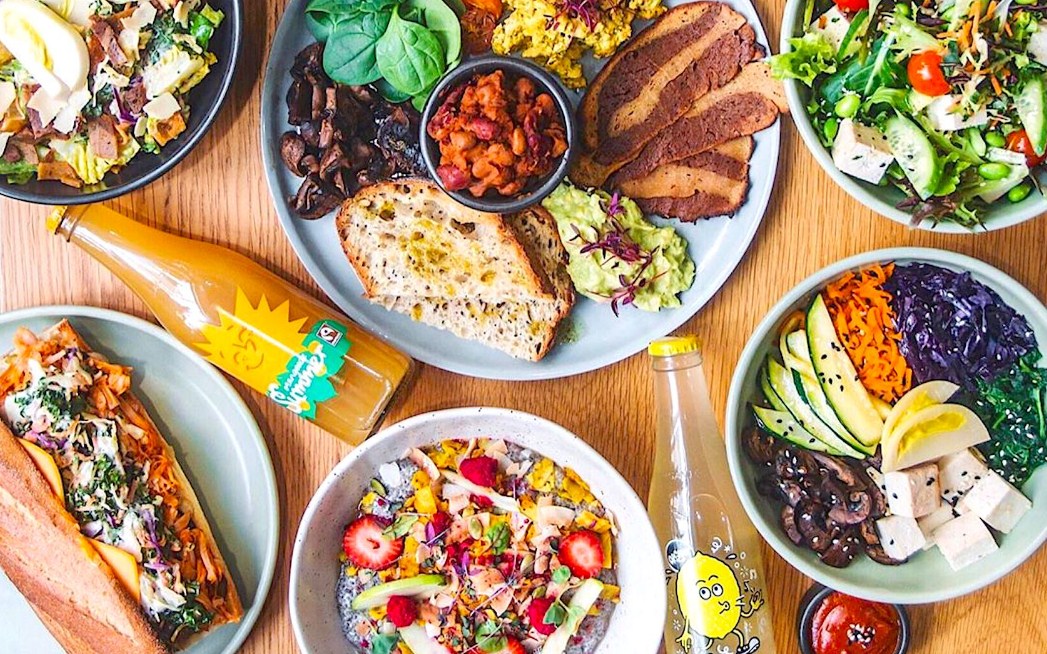 Must Visit-Vegan Cities Of The World
Covid -19 has taught us a lot, and we have started realising how consuming animals can impact our health and our mother earth.
In the past few years, many people have turned vegan, and the number is exceeding day by day. To cater to the demand of vegans, many restaurants have started introducing vegan dishes into their menu.
Not only this, some of the world's biggest cities have turned into vegan cities and started offering an array of vegan cuisines.
Here in this blog, we will talk about the world's top vegan cities, which will satiate your vegan taste buds.
1. London : 
PC: Healthista.com/temple-of-hackney
In London, the number of vegan restaurants increased in 2019. Presently it has 152 vegan restaurants citywide. As per the vegan society larger survey, there were approx 600,000 vegans in the UK. People in London have made veganism their lifestyle .
You will find everything vegan starting from bakeries to cafes. Restaurants like PickyWops, Purezza and Young Vegans Pizza shop offer vegan pizza. It also harbors the world's first vegan fried chicken shop, The Temple of Hackney . It's a must visit if you are a vegan and want to try some fake chicken.
2. New York, US
PC: Vegnews.com
New York city , the city that never sleeps, has become the most vegan friendly cities in the US in 2018. It offers everything vegan starting from vegan sandwiches to the vegan burger. Blossom vegan , Buddha Bodai and Dirty Candy are the must vegan places.
Other spots for tasty and reasonable food are Marty's V Burger, V life for their wraps, salads , smoothies .Hangawi and Hangawi's sister restaurant Franchia Vegan Cafe offers great Korean/Asian fusion food. New York also caters to the French people . It's Delice & Sarrasin is the must visit place for vegan versions of french classic dishes.
For your sweet tooth it has Erin Mckenna's and sweet by Chloe ,Dun - Well Doughnuts and Rawsome Treats.
3. Los Angeles, US :
PC: Onegreenplanet.org
Many Vegan Hollywood celebrities come from Los Angeles. It has 42 fully-vegan and 142 vegetarian and vegan-friendly restaurants in a five-square mile area. 
Not only this , you get a variety of various cuisines too . It  harbors 18 vegan Thai restaurants like Arraya's Place and Satdha , 3 vegan Ethiopian restaurants ( Azla Vegan, T&T lifestyle ) a vegan cheese restaurant ( Vromage ) also pizza lovers can get a plant-based Cruzzer pizza. 
The list doesn't end here the world's first and only Cuban vegan restaurant ( Equelecua Cuban Cafe ) is also present. Treat yourself with famous bakeries like Donut Farm , Erin Mckenna's Bakery LA and Pomegranate.
After having so many restaurants no wonder it is known as a vegan haven.
4. Prague :
PC: Expathub.life
It has 48 vegan restaurants and out of these most famous is Bistro St?echa . It offers reasonable and delicious Czech cuisine. It is owned by a worker cooperative and offers jobs to underprivileged and former prisoners.
Also Chlebí?ek and tiny bistro are very popular shops in Czech and known for their Czeh open sandwiches. Waipawa Letna offers great vegan burgers Czech classic meals.
 Moment is known for its tasty brunch like scrambled tofu. Bagels and quesadillas. Blue Vegan Pis Shop offers American style donuts.
Need some raw gourmet cuisine to head to 3 locations of bistRAWveg.
Overall, Prague is a great place for vegan food lovers.
5. Melbourne
:
PC: Timeout.com
Among the top 5 in Australia Victoria State Capital Melbourne.This city has witnessed strong animal rights protests serves as a home to a health-conscious tribe. It has everything starting from the vegan market to food truck festivals. Melbourne is blessed with many vegan cafes and restaurants like Smith and Daughters , Veggie bar, Yong Green Food, Red Sparrow Pizza and many more.
6. Amsterdam :
PC: Mastinovegan.nl
It is  the top stop that is gaining popularity over social media as an upcoming vegan city. In almost the last 12 months , Dutch capital has experienced many new restaurants which are insta -worthy too. 
Have crunchy-crusty pizzas at Mastino V and ramen bowls at Men Impossible. And chessy shawarma loaded fries at Vegan Food Bar. So, pack your bags and get your vegan share here in Amsterdam.
7. Paris:
Paris, the city of love also entered the top ten vegan cities. From the past few  years , Paris has transformed into a perfect tourist destination for vegans. 
You get everything starting from Gentle Gourmet to contemporary cuisine. Hank Vegan Burger serves the best vegan burger and fries, and Hank Vegan Pizza is known for its vegan pizza . 
If you are a fan of vegan kebabs head to Super Vegan. For sweet lovers it has Cloud Cakes.They offer vegan croissants and great coffee. Jo and Nana serves some amazing vegan cookies, pies and cakes. 
For pastries there's Laélo and VG Pâtisserie. If you are in a mood for asian vegan food, Hut and Bodhi Vegan is the place to go. Get traditional vegan French foods at Le Potager Du Marais and Le Potager De Chalotte.
Not only food, but you can also get vegan body care and cosmetics at Veganie.
8. Toronto :
PC: Toronto.com
 In the past few years vegan offerings have increased in Canada's most populous city. Locally famous Apiecalypse serves outstanding vegan pizza-by-the-slice. Doug McNish, a famous canadian chef opened Mythology Diner in 2017, it features veganized versions of classic dinner. Doomies has also become a fast food restaurant for vegan versions of American classics north of the border.
Toronto's Urban Herbivore is also known for its create -it -yourself vegan protein bowl . For delicious salads and soups you can head to SÜÜP Health Bar. Want some tastes of tropical island ? Ital Vital and One Love Vegetarian is what you need. Try Planta burger at Plants and raw vegan lasagna , pizza and wrap at Rawlicious.
If you are looking for some vegan accessories and shoes , check out Imperative.
9. Israel :
PC: Touristisrael.com
Approximately 400,000 people are vegan and the number is growing. Vegans inhabit Tel Aviv and it has 31 fully vegan restaurants . They serve a combination of Israeli/Middle Eastern/ Mediterranean cuisine western touch.
Anastasia, a vegan cafe in Tel Aviv offers amazing main dishes and raw desserts. Zakaim Vegan Boutique is quite a famous vegan place in the city. It serves Persian and Middle Eastern fine dining.
Try Tenant for Ethiopian food and The Green Roll for Sushi. Pizza will be served right at Hatool HaYarok. For amazing salads and hot dishes go to Meshek Barzilay Deli and Meshek Barzilay restaurant,
If you are looking for healthy vegan food that is not fried , check out Nature Boys. Also check out Taam L'Chaim – Taste For Life, a vegan grocery store.
10. Turin, Italy:
 PC: Tripadvisor.in
 Italy ,the city for pizza lovers, also takes care of vegans and serves vegan pizza at  Coox and Gusto di Carmilla. Also, try their almond-milk ice-cream too.
Next time don't fret what you will eat being a vegan on holiday ,instead visit these amazing tourist destinations. They will not only be pleasing to your eyes but also please your vegan taste.
Do share with us your favorite  if you traveled to these vegan locations .