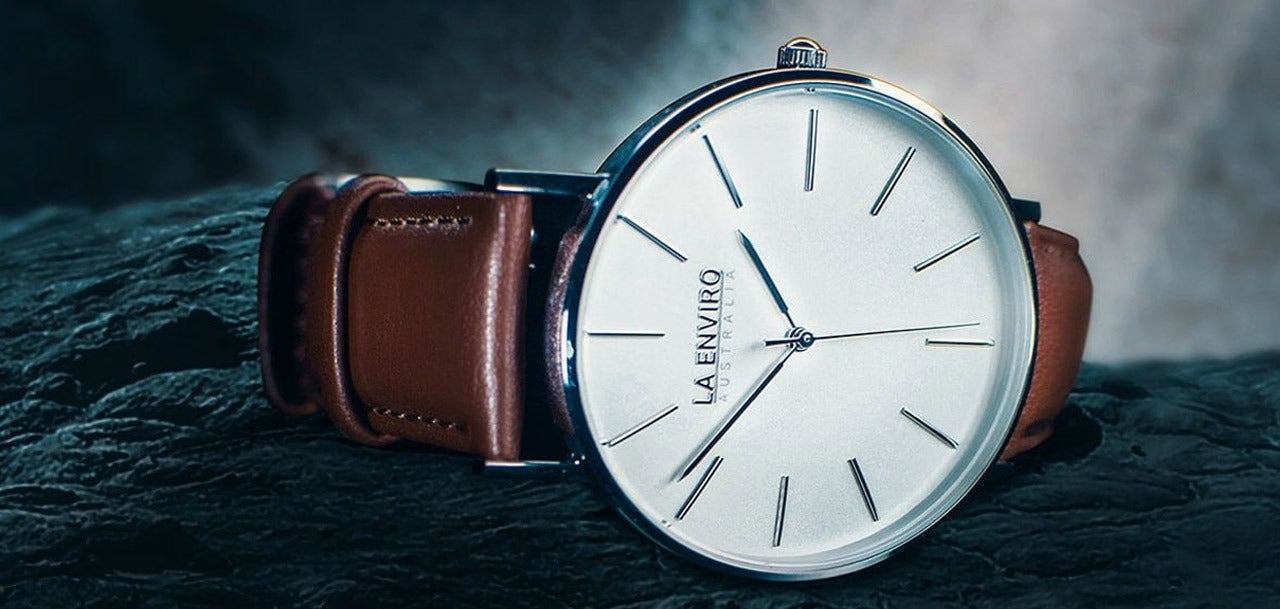 What Does a Vegan Watch Looks Like?
Wondering what vegan watches are made of and how it actually looks like? 
Well! if yes, then no wonder you landed in the right place.
You can get the luxury vegan watches that are made of ethical material made of cruelty-free animal products. 
When it comes to natural watches, most among them are made of animal-derived products. But do you think it is actually good to harm other animals to fulfill our requirements?
Of course not!
Thus, we are here with the complete concept of delivering cruelty free watches that not only created without harming any other living being but look fashionable and stylish at the same time. 
LA ENVIRO is the brand that meant to deliver quality and luxury vegan watches. 
Want to know what makes our vegan watches different and how it looks like?
Stay tuned to grab the full information!
Vegan Leather Watches by LA ENVIRO
LA ENVIRO is known for delivering vegan watch strap that is made entirely of recycled material, Polyurethane. Unlike PVC, PU is the breathable material that helps your skin to breathe thus makes you feel comfortable all day long.  
Along with this, we continuously hunt for a sustainable material that helps in producing more better quality vegan products including watches. 
We come up with the best quality product and watch design that goes with your personality and suits your style. 
Still wondering how vegan watches look like. Well! we understand your curiosity and therefore here we are with the full-fledged information for you. 
How does a Vegan watch Look Like?
The vegan watch is the best product that encourages more sustainable development and to live in the environment without any intention of hurting other living beings for our selfishness or our own sake.
Opting for a luxury vegan watches offers you many benefits:
Vegan leather straps are thin and comfortable.

They are lighter as compared to natural leather watches.

The material of which it is made allows your skin to breathe thus making it easy for you to carry it all day long. 

These watches are available in different styles and colors thus you can opt for the best that suits your style. 

It fits best with both your casual and formal wear. 
Everything around us affects us and what affects us the most is the environment we are surrounded with. Reducing animal use in products helps in cleaning and purifying the environment. 
For you, it's just your one leather strap watch or leather jacket or shoes but millions of animals are harmed and killed every day to satisfy the styles of people.
But if we make our mind and choose to be wise then we will always prefer vegan for our style and lifestyle.
To start with, pick the right brand and choose the vegan watches made of cruelty-free and also give the stylish look. With began watches you have your personality enhanced both inside and outside.
Wrapping Up
For people who choose to live a kinder life, vegan is the correct word for them. By using vegan watches, they know they have not used anything that has anyhow harmed animals as these are 100 percent cruelty-free watches.
The moral principle of one's life should not make anyone suffer for their own benefit so vegan watches is a journey towards this direction so that more and more watches could be produced with more luxurious straps, more innovative and stylish, and made with completely cruelty-free materials.
So what are waiting for, visit our website now and add your cart with the beautiful and stylish watches. We offer the best and top vegan products at a minimal price.