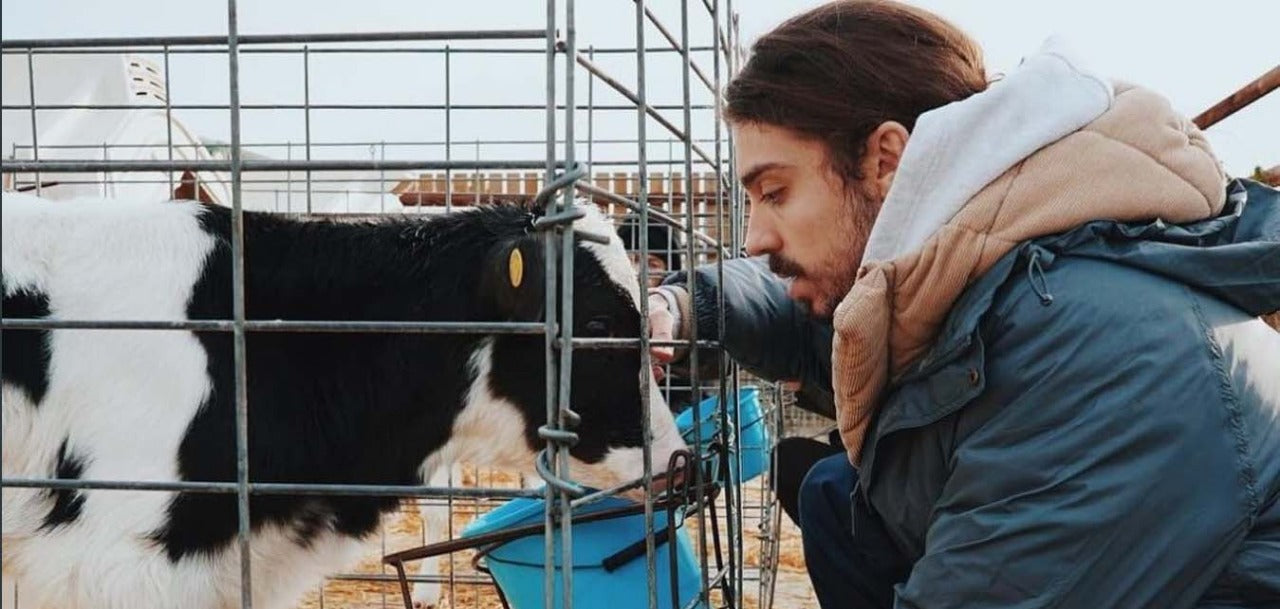 Earthling Ed - An Activist Who Fights For Compassion, Justice And Equality Of Animals
PC: Veganfoodandliving.com
Veganism has become a rage now and many activists are taking firm steps to prove their point and to bring the change that is needed.
Ed Winters , is a 26 years old  British animal rights activist. He is also known as Edward Gaunt and is quite popular over Instagram and YouTube by the name Earthling Ed. 
 He is not only an activist but is a filmmaker and a lecturer too. He gained popularity after this university lecture "You Will Never Look at Your Life in the Same Way Again" which crossed almost 35 million views . 
PC: Aminoapps.com
This man has a heart of gold as he has so much compassion for animals. He makes us question ourselves. Are our taste buds more important than the life of an innocent being? Well the answer is no.
 He started his YouTube channel with the aim of producing content that would inspire other vegans and make them confident advocates for veganism in future . He began filming and asking people about veganism and their views on it.
In 2016 and in 2019 his channel had more than 160,000 subscribers and the numbers are still growing. 
He has spoken ⅓ of UK universities and at 6 Ivy League colleges. He was invited as a guest lecturer at Harvard University. Moreover, given speeches at University of Cambridge, Google NYC and Google Zurich.
Vegan Journey :
Let's see how it all started . He turned vegetarian in May 2014 after reading an article about a chicken truck crashing near Manchester. The article moved him and he started questioning himself don't the lives of animals matter?
He took the next step and became vegan after watching the documentary Earthlings. 
After this he decided to go by the name Earthling Ed on social media to raise his voice on animal abuse.
Achievements :
In October 2018, he opened a non-profit vegan restaurant Unity Diner in London whose all the profits go into animal help.
He gave two TEDx talks in 2019 and delivered classes at Harward on how ethically animals should be used . He also hosts The Disclosure Podcast. He has appeared on television many times and debated about unethical ways of using animals. 
In November 2018, during a live show when Phillip Schofield asked him whether he was a militant vegan, Winters said he "stands up for what [he] believes in" and that "violence is never on the table", adding that "I'm personally offended by people who exploit animals... pigs are in gas chambers screaming." 
Winters was also one of the guests at the 2018 Montreal Vegan Festival.
In merely 2019, he gave 107 talks and 33,248 people signed up to go vegan through Ed's online content.
His Contribution :
This public speaker and content creator is a co-founder and co-director of Surge. Surge is an animal rights organisation whose mission to create a world full of compassion for animals like humans. 
Surge started The Official Animal Rights March in 2016 which had 2,500 participants in London, but the activists rose to 41,000 in 2019 and they marched in 42 cities around the world. In Cologne, app 1000 activists marched 6 km and conducted fake blood protests .However, in London, around 12000 participated.
Surge also recently released the documentary 'Land of Hope and Glory' which is the UK's  apt answer to 'Earthlings'.
Anti-fur campaigns
PC: Uk.lush.com
Earlier, Surge under Winter's co-directorship  conducted anti-fur demonstrations at Londone catwalk events. The protest included petitions and a video with Lucy Watson calling on the BFC to ban fur.
PC: Aminoapps.com
In 2018, Winters along with anti-fur campaigners protested at  the Burbery, Mary Katrantzou and Christopher Kane shows. His fellow activists wore costumes covered in fake blood outside of 180 Strand. 
They called upon British Fashion Council to ban fur from London Fashion Week. After, 2018, The London Fashion Week went fur -free. Isn't that great !
He also brought the brutal  truth of the United Kingdom's dairy farms to light  after taking their footage. Later in 2017 he produced the documentary Land of Hope and Glory in which he showcased that footage. Eventually , RSPCA responded to that.
Other Activist Activities:
He also petitioned Priestlands School in Lymington Hampshire against the slaughter of their Tamworth and Gloucester Old Spots pigs.
He  launched a campaign and it  reached 37,000 signatures within days.
On 14 the February 2018, on Valentine's Day  he was attacked by a farmer when he went with his animal liberation volunteers to lay roses for animals sent to slaughter in the Thame Livestock Market, Oxfordshire.
In March 2019, he again with his 200 activists of the animal rights campaign group Meat the Victims, videotaped a pig farm in Laughterton, Lincolnshire. Also they shared the video on social media.
He argued during his talk on "The Ethics of Pet Ownership" that it's unnatural to keep animals as pets because it devalued their lives.
He even tried convincing footballer Jermaine Jenas to adapt veganism via his speech in October 2019.
This man has worked hard for animals and their betterment. The idea of treating them with compassion and equality have moved many. 
He believes that burying our heads into the sand and being ignorant about it triggers more suffering. So we need to raise our voices against the exploitation and death of animals.
So, if you are vegan or planning to shift to veganism take inspiration from this guy and watch his documentary and speeches. 
They will surely move you and will make you worthy of contributing something to humankind.