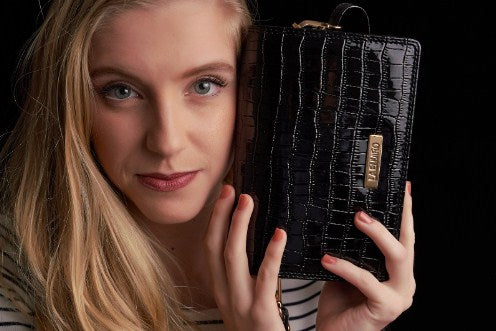 Vegan Leather Crossbody Bags - Humane and Stylish all in One
Crossbody bags have been a statement of style for men and women alike for as long we can remember. What first started in early modern Europe as a comfortable way to carry coins and tools of the trade, has now transformed into a fashion trend that you can't just ignore. 
Although they are fabricated with a wide range of materials, leather crossbody bags can be considered the flagship type. As we all know, animal leather used is deemed to be a durable and sustainable material. This, however, comes at an avoidable cost that crosses the line of ethics.
The black vegan leather crossbody bags are made from materials that are just as durable and reliable as animal leather. This alternative production method is one of the most efficient ways to go about putting a stop to animal cruelty.
Why you may want to go for the Vegan Leather Crossbody bags
Let's go over some reasons why you should go for the black vegan leather crossbody bags
1. Advocacy for the humane treatment of animals: Veganism as a whole is about the push for the humane treatment of animals. These creatures used in manufacturing animal leather are subjected to several intolerable conditions such as poor-feeding, limited light exposure, and some are even left to rot in their excreta and dirt. 
You'd think it'll be any different in developed countries veganism is gaining popularity, but no. They still take these animals through painful procedures like dehorning, castration, and branding. Some don't even have licensed vets to ensure that the animals are living healthy. It's unfortunate to witness such practices still being carried out on a large scale to mine a material with equally reliable alternatives.
2. Limitless creative designs: Vegan leather crossbody bags are made with materials that are processed in more ways than animal leather. This opens up an unlimited space for the invention of new designs and styles using this material. 
3. Diminished Carbon Footprint: One thing that the leather industry doesn't tell you when you buy a product made from these materials is that the leather is not so much the by-product. This rapid breeding of livestock is responsible for increasing the carbon footprint. 
Making the switch to vegan leather products is one way to activate this carbon footprint and saving the planet.
4. Style meets comfort: Crossbody bags are not just stylish, but provide a new method for everyone comfortable to carry around and hold valuables. Women can also decide to go for the classy vegan crossbody purses that come in relatively smaller sizes.
5. You'll know that you're doing your part: It doesn't matter whether you are a vegan or not. We believe that it's the responsibility of everyone to curb the menace that is animal-slaughter. Now, not everyone can push elaborate campaigns against the animal leather industry, but we can all do our parts. Carrying your black vegan leather crossbody bag would give you a particular pride that comes from the knowledge that you've made an effort to save the planet from the guilt of animal cruelty.