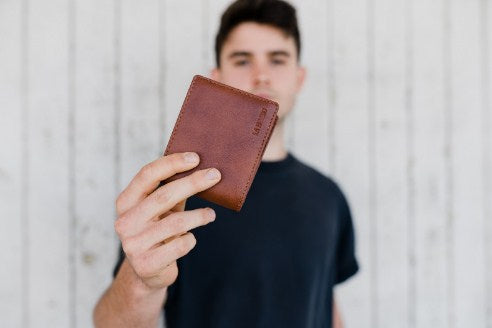 Vegan Wallet: A New Trend of Elegance and Compassion for Australian Men
Since the introduction of paper currency into our civilization, wallets have found their ways into the pockets of men over time. Most men can't even imagine managing their day to day lives without one. 
Not only are wallets efficient in holding cash and cards (such as IDs and credit cards), but they are also a fashion statement for men. These days, vegan wallets are becoming a trend of elegance for men in Australia. 
What's so Special about Vegan Wallets?
Vegan wallets are made from materials that are just as stylish and reliable as animal leather. They provide an ethical alternative that allows for a lot more room for different kinds of designs. 
Animal leather has been recognized over time as a sustainable component of wallets, among other leather products. Nonetheless, it's impossible to turn a blind eye to the intolerable conditions that animals are put through to manufacture such an irrelevant material. It certainly doesn't help any further to purchase the by-products of this animal-cruelty.
So, Why Should Australian Men make use of Vegan Wallets?
Let's go over a few reasons why you should dump your animal leather wallets and get a vegan wallet today. 
It's become a famous fashion statement: The materials used in manufacturing vegan wallets are taken through procedures that can provide a wide range of design choices. It owes its newly-found popularity to the several elegant designs coupled with the affordability of a vegan wallet compared to that made of leather. Every man wants his purse to be spacious, sleek, and portable, and that's what you get when you purchase a vegan wallet Australia. 
Advancement against animal-cruelty:

It's not just the responsibility of vegans alone to raise awareness about the brutal nature of the animal-slaughter. These animals are put through several inhumane conditions as well-being selectively bred. Another scary thing about animal leather production is that the leathers gotten from separate kinds of animals cannot be differentiated by a layman, just by looking at them. This means that your leather wallet could be a by-product of dogs even.
You're your part in your little way:

While the guilt of animal-slaughter has affected the world in more ways than we regularly mention, not everyone can afford to raise big campaigns against animal cruelty. However, this doesn't mean that we all can't do what. With your vegan wallet in your pocket, you'll get a sense of pride that you're doing the right thing and saving. 
Vegan wallets help to reduce the carbon footprints:

There's a lot of carbon footprint left in the breeding of livestock for leather purposes. As an ethical human, you can help diminish the massive carbon footprints by making the switch to vegan wallets. This will be your way of contributing to the improvement of Australia, and the rest of the earth.