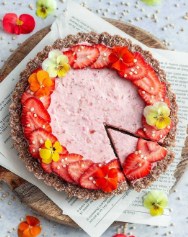 Top 3 Vegan Cakes Recipes You Should Know
How can vegans eat cake? Doesn't it contain eggs and dairy products? 
Well, there are so many vegan substitutes available for baking a vegan cake that it has become so much easier to bake a vegan cake. 
If you are a vegan and abandon all animal-related products, we can understand that you might be missing creamy cakes! 
Well, well, well! 
Spoiler!!! 
You can still bake a cake and eat it because we have got recipes of mouth-watering vegan cakes for you.  
Vegan cakes are not only a healthier option but also contain less saturated fats than a non-vegan cake. 
Also, by eating a vegan cake, you will be contributing your bit to the environment. 
We have listed down below these delicious vegan cake recipes that won't show up on your waistline and will prove that vegan can be unjustly delicious.   
CHOCOLATE AVOCADO TART:

 
PC: Sfoodies
Ingredients for  Base (18cm round cake):
1 cup (250 m) cacao nibs

10 pitted dates soaked for 15 minutes

3 tbsp of cacao powder 

1 cup (250 ml) GF rolled oats

A pinch of salt
Ingredients for mousse:
4 tbsp cacao powder

100 ml of melted coconut oil

Pinch of salt

2 avocados 

200 ml coconut cream 

Liquid sweetener as per taste 
Method:
Process the rolled oats and cacao nibs and wait till they are broken down into small pieces. 

Put salt and cacao. 

Start setting the processed rolled oats and cacao nibs and put dates one by one. 

The mixture should be sticky enough that when you roll it, nothing should be left on your fingers. If you still feel that it is dry, add water, and if you think it has become too sticky, add some cacao powder to the mixture. 

Mix all the mousse ingredients until it becomes smooth. 

Pour the mouse on the dough. 

Put it in the freezer for 2-3 hours. 

Viola! Your chocolate avocado tart is ready; you can decorate it with some dried berries. 
LEMON RASPBERRY CAKE: 
PC: Gina |21|Vegan fit food
Ingredients for cake:
250 gm of vegan butter/margarine 

2 packages of vanilla sugar

240 gm of sugar

1 lemon for juice 

400 gm flour

2 tbsp of soy flour

1 tsp of apple cider vinegar

⅓ tsp of baking soda 

1 ½ tsp of baking powder 

A pinch of salt

200 ml plant-based milk
Ingredients for filling:
160 gm of frozen raspberries

Locust bean flour 

1 packet of  cream stiffener

125 gm of jam

200ml of vegan whipped cream 
Method:
Preheat the oven to 180 degrees celsius. 

Mix margarine salt, apple cider vinegar, and sugar to prepare a mixture. 

In a separate bowl, mix baking soda, baking powder, salt, and flour.

Now mix everything and add plant-based milk. 

Spread it on a paper made baking sheet and bake it for another 10-15 minutes.

After it is baked, wait for like another 10 minutes to cool it down. 

Now, whip the vegan cream with cream stiffener. 

Put the raspberries in a pan and warm them up a little.

Now, add locust bean flour in the pan with the raspberries. 

Start building your cake by layering. First, but the layer of cake then put the raspberries and whipped cream on it and continue the same. 

After the layering part is over, put it in a fridge until the time of serving. 
VEGAN VICTORIA SPONGE CAKE 
PC: Becks
Ingredients for the vegan cream:
175 gm icing sugar 

200 gm dairy-free or vegan spread

1 tbsp of vanilla extract 
Ingredients for the sponge:
1 ¼  tbsp of bicarbonate of soda 

400 gms of self-raising flour 

250 gm of caster sugar

2 tbsp vanilla extract 

115 ml of sunflower oil 

400 ml plant-based milk
Ingredients for the decoration:
150 gm of strawberries 

4 tbsp of strawberry jam 
Method:
Preheat the oven at 180-degree celsius.

Prepare the batter for sponge cake by mixing the dry and wet ingredients. Whisk it until it is creamy. 

Put the batter in two different greased cake tins and bake them for 25-30 minutes. 

Remove it from the oven and leave it for cooling. 

In the meantime, prepare the buttercream by whisking all the ingredients. 

After the cakes cool down, remove them from the tin and spread the jam on one of the cakes and buttercream on the other. 

Decorate with strawberries and serve fresh. 
Aren't these vegan cake recipes so easy, all the fuss we hear about vegan baking is not real. These recipes are so delicious that they will leave your guests craving for more. 
With these handy vegan cake recipes, you can start baking your vegan cake NOW!