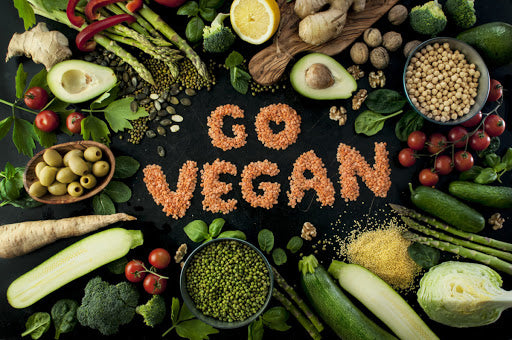 5 Top Tips for a Healthy Whole Foods Plant Based Meal Plan
Adopting a whole foods plant based diet is a significant step forward to improving your overall health. There is a growing body of research that has revealed some extraordinary health benefits, including:
Increased energy levels

Lower blood pressure

Reduced risk of hypertension and heart disease

Prevention and reversal of type-2 diabetes

Weight loss

Reduced risk of certain cancers

Lowers "bad" LDL cholesterol
It's no wonder then that the number of people switching to a whole foods plant-based diet is growing exponentially all over the globe. 
Here's how to get started with some tips on creating and managing a healthy whole foods plant-based meal plan. 
1. Get to Know the Foods You Need to Focus On
Photo by Iñigo De la Maza on Unsplash
As the name suggests, a plant based diet is made up of plants. But it's not all veggies. There are thousands of healthy plant foods out there. Here are the ones you should focus on:
Vegetables:

carrots, tomatoes, broccoli, cauliflower, peppers, spinach, etc. 

Starchy vegetables:

Potatoes, sweet potatoes, butternut squash, pumpkin, etc.

Whole grains:

Brown rice, rolled oats, wholewheat pasta, quinoa, etc.

Healthy fats:

Avocados, olive oil, coconut oil, unsweetened coconut cream/milk, etc.

Legumes:

Beans, chickpeas, lentils, peas, split peas, etc. 

Seeds, nuts and nut butters:

Cashews, almonds, macadamia nuts, pumpkin seeds, sunflower seeds, chia seeds, flax seeds, nut butters, tahini, etc.

Plant-based milks:

Oat, almond, cashew milk, soy, etc.

Spices, herbs and seasonings:

Basil, rosemary, turmeric, curry, black pepper, salt, etc.

Condiments:

Salsa, mustard, nutritional yeast, soy sauce, vinegar, lemon juice, etc.

Plant-based protein:

Tofu, tempeh, mycoprotein or vegan protein powders with no added sugar or artificial ingredients.
2. Keep it Simple
Photo by Anna Pelzer on Unsplash
When setting out on your whole foods plant-based journey, it's best to just keep it simple. Don't get overwhelmed, stick to your favourite plant foods and follow simple plant-based diet recipes.
Many people get put off at the start because they take too much on. They fill their house with glorious mountains of plant foods and start trying to create complicated plant-based diet recipes.
Keep it simple. Use recipes with 5-10 ingredients that take 10-30 minutes to cook. This way, you can gradually get accustomed to your new diet.
3. Fill Your Dry Store Cupboard
Photo by Nightingale Art House from Pexels
Every kitchen should have a well-stocked dry store cupboard. This is especially important for plant based eaters.
Plant-based cooking includes lot's of oils, vinegars, and other condiments that maybe you're not familiar with. Here is a list of the basics that will help with your plant based meal plan and cooking.
Veggie stock

Nutritional yeast

Dried beans and legumes (chickpeas, black beans, red and yellow lentils)

Rolled oats

Mixed nuts (peanut, cashew, walnuts, almonds and pecans)

Mixed seeds (sunflower, pumpkin and sesame seeds)

Grains (Whole grain brown rice, quinoa, and whole-grain pasta)

Apple cider vinegar

Healthy oils ( Extra virgin olive, flax and coconut)

Dried herbs (Oregano, Basil, Rosemary, Sage, Tarragon, Thyme and Herbes De Provence)

Spices (Cumin, Cayenne Pepper, Paprika (plain & smoked), Garam Masala, Turmeric, Chilli Powder, Ginger Powder, Garlic Powder, Fennel Seeds and Mustard Seeds)

Soy sauce

Hot sauce

Coconut milk and cream 
With this list, there will be very few plant-based diet recipes you can't cook. Once you have these items, they don't need replenishing for months at a time.
4. Stick to Meals with Similar Ingredients
Photo by Louis Hansel @shotsoflouis on Unsplash
An easy way to cook and stay on track with a plant based diet (or any diet really) is to use similar ingredients in your meals. This way, you keep things simple and don't have to buy as many foods, which saves money.
It also helps you to reduce prep time for other meals. For example, if you cook rice or lentils, you can save it for tomorrow's meals. Just put it in an airtight container in the fridge. The next day, pull it out, and you're ready to go saving you time and energy.   
5. Find Your Nine
Photo by Yoav Aziz on Unsplash
It's thought that everybody has an average of nine meals that they consistently make throughout each month. Knowing these nine meals can help you to keep your plan simple and reduce the stress of continually finding brand new recipes.
So, pick your favourite nine meals and use them throughout the month on multiple occasions. Don't spend hours looking for 25-30 new recipes every month. It will drive you crazy.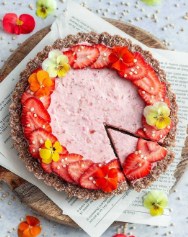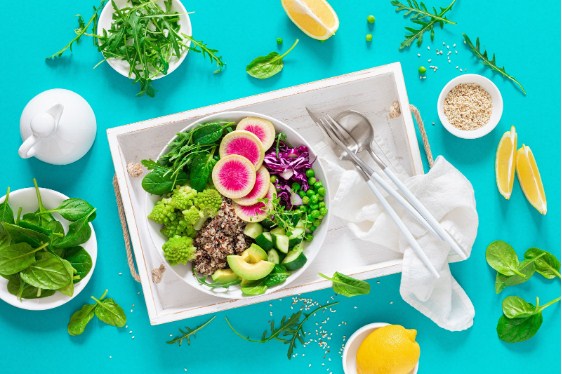 Vegan and Cruelty-Free Accessories
Today, the majority of the population consumes products that contain animal ingredients. That's why both vegans and vegetarians are regularly ridiculed for their way of life. Even more, as the numb...
Read more