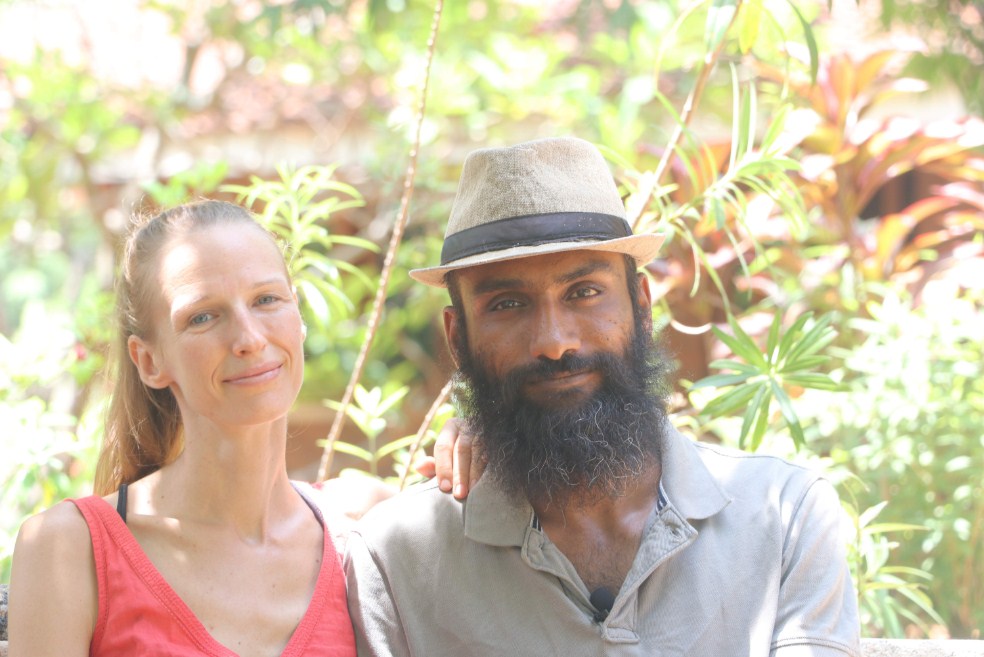 Gowri Shankar, A Man Behind Weganool - A Vegan Substitute To Cashmere
We have always learned wool comes from the sheep as we grew up singing "Baa Baa black sheep have you any wool".
What if I tell you that we can get wool from plants. Yes, Gowri Shankar has made it possible by using wild flowering shrub calotropis fibers to create vegan wool and named it 'Weganool'.
Why vegan cashmere?
PC: Vegnews.com
 As per Business of fashion, it takes four goats hair to make  one cashmere sweater. In Mongolia cattle grazing has led to desertification. Plus, workers handle goats violently and are left with neck wounds.
All the above leads to livestocks death which adversely affects our environment. So, to counteract these we need to think differently and become conscious about our lifestyle choices.
We don't have to stick to traditional cashmere and wool. There are many cruelty-free wollen options to choose.
Now, cashmere sweaters won't be a staple for winters as they could be replaced with vegan cashmere. 
Soon ,Weganool will be creating waves in the Fashion Industry.
How it all started?
PC: Veganfirst.com
Gowri became intrigued by seeing sunbirds resting on the calotropis plant in winters. That made him think, how warm it could be, and can he make yarn out of it. Later he began to research the plant fibre. 
After 5 months, he created a vegan alternative to wool. He produced Weganool by using the hollow and cellulose fibers of shrubs of Calotropis Gigantea and Calotropis Procera.
In 2015, he started Faborg, located in South India. Faborg manufactures Weganool.
Weganool comprises 70% organic cotton and 30% calotropis plant. Weganool is biodegradable and free from chemicals.
            PC: All-creatures.org
The wool is produced by the rural women near Auroville in Tamil Nadu. It was a great move to reduce unemployment in the village and help women to sustain.
Presently, Faborg doesn't make vegan cashmere clothes, but they will be launching their knit options by next year.
Why Calotropis fibres?
PC: Faborg.in
They are hollow inside much like alpaca wool protein fibres this makes it as good as cashmere. It's warm and has antimicrobial properties.
Also as per Gowri Shankar, that yarn can be spun on readily available cotton spinning equipment.
The plant fibres are lightweight, warm, soft, and have a natural shine that gives it a luxurious touch, hence , can be a lucrative item for the big-fashion houses.
Gowri Shankar
Gowri Shankar, a 35-year-old fashion entrepreneur hails from a family of weavers of the Devanga community. Since childhood, he has seen age-old weaving methods.
Shankar is not a newbie in the Fashion industry. He has been in it for over 15 years and has worked with high-end brands like Chanel, Hermès, and Louis Vuitton. Also associated as freelancer merchandise for Chennai- based embroidery atelier, Vastrakala.
In 2015, he gave up his job and started Faborg, headquartered near Auroville.
Shankar co-founded Natural Dye House In Tripura in 2018 to replace the chemical methods of processing. He is also working on his brand of natural pest repellent, Arka, which is a byproduct of Weganool production.
So far, he has been able to convince 70 farmers to replace chemical pesticides with natural alternatives.
PC: Thehindu.com
The fabric has been already picked by Infantium Victoria, a German ethical-clothing brand of children. Weganool is making its debut in Infantium Victoria's Fall Winter Collection 2021.
In Jan 2020, the vegan wool was presented at the 9th Future Fabric Expo held at London.
Weganool was launched in London this year. It has been a hit in European media, and now it is being introduced in India too. Shankar's with his five-members are steadily hitting the Indian market.
Brazilian farmer communities have shown interest in collaborating with Faborg for Weganool and Arka.
Future Plans 
Talk has been going on with brands like H&M, Marc O'Polo, Hugo Boss, and Louis Vuitton to develop collections. Soon, we could see that happening. 
He is also going to experiment with knitted shoes. In Auroville, he has dedicated close to 30 acres to raise the Calotropis plant, and the plan is to introduce multi-crop farming.
This man has bigger plans. He has patented processes so that big companies cannot take advantage of it.
He believes that it's time for people to reconsider their lifestyle choices and move towards sustainable things.