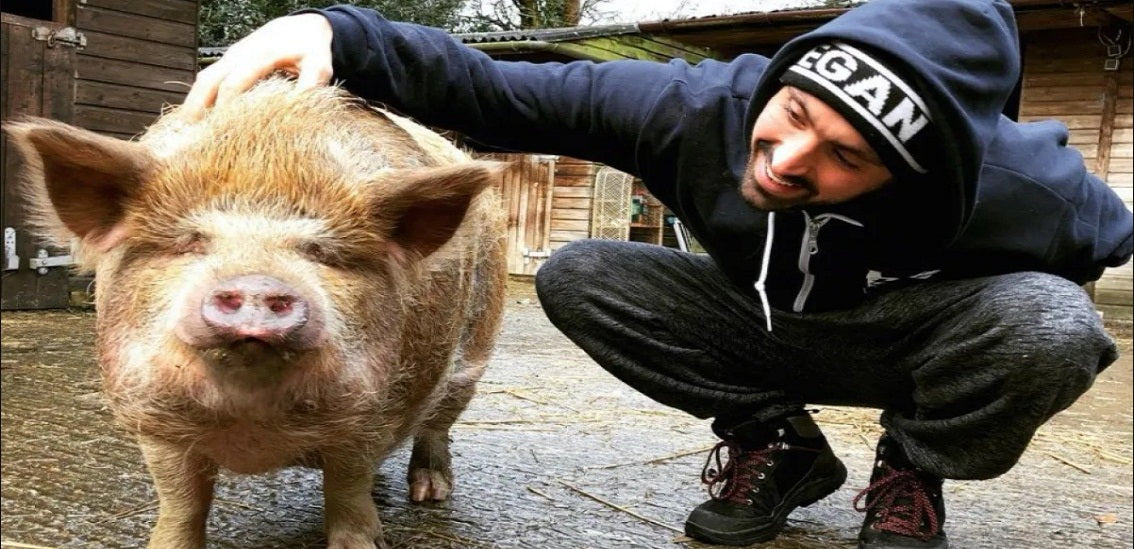 Joey Carbstrong: A Vegan Activist Who Turned From A Criminal To A Vegan
PC: Plantbasednews.org
Born as Joseph Armstrong, his story is one of the most inspirational stories. He is an animal rights activist from Australia and a 'celebrity' vegan activist having thousands of YouTube subscribers.
 Although he was formerly a criminal, Joey went through a journey of personal transformation. He started advocating for veganism and liberation for animals through television, social media, and many public events. He was born and brought up in Adelaide, Australia. All in all, Joey went through a rough childhood.
Shady Past:
PC: Vegnews.com
Joey told on a public platform that he was in a life of crime and substance abuse before coming into the spotlight. Joey left school when he was 14 and became heavily addicted to hard drugs. He did many labour jobs until the age of 22 when he got welfare. By this age, Joey had a significant criminal record. It included three cases of assaults, for which he spent eighteen months under house arrest. 
Furthermore, he spent six months in jail because the police found a loaded shotgun that Joey was going to take to a drug deal. They also found many weapons and ammunition.
Post-Incarceration:
PC: Veganlifemag.com
After his release to curb his addiction, one fine day he decided to become a vegan. He became vegan coincidentally on the World's vegan day back in 2013. 
 Joey also has a tattoo behind his right ear that says 'vegan.' He has been sober since his release from jail. Joey has been highly involved in animal rights activities around Hong Kong, Australia, and the UK. He has been an avid supporter of various groups like the Save Movement and Anonymous for the Voiceless.
At the start of 2018, Carbstrong began a UK tour named "Vegan Prophecy." It included protesting against slaughterhouses. During the time, he was also a part of numerous TV debates in the UK.
Joey's Activism:
PC: Veganlifemag.com
During a protest at Spennymoor, Carbstrong said that if slaughterhouses were not on the outskirts and if they had glass walls, not many people would be eating meat. Joey said that animals are also individuals who also want to live. Humans do not need meat for survival, and he wants to make people think about their choices regarding food.

He also said that humans could not love animals while humans eat their meat and pay for the animals to go to a slaughterhouse. Joey further said that slaughterhouse workers are the elements of a sick society who want to eat meat.

During a debate on a British TV program, he talked about the artificial insemination of cows. Joey said that it is sexual abuse. Furthermore, he said that the dairy sector sexually violates cows.

During another TV show, Joey said that cheese came from an artificially inseminated mother and had her children snatched. According to him, it is why most vegans would consider dairy farmers close to a rapist. He wouldn't use such words for farmers, but he would also like to explain to them the process and know why they involve themselves in these practices.
Final Words
Joey Carbstrong is one of the top global vegan celebrities. He went through a significant change in his life from being a criminal to one of the world's most prominent activists against meat consumption.