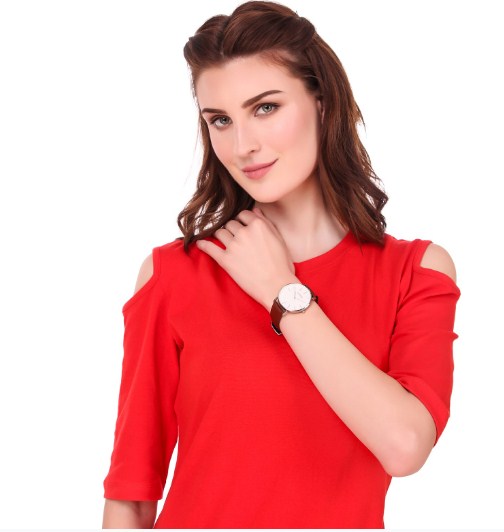 VEGAN WATCHES FOR WOMEN - TIME TO MAKE A CHOICE
VEGANISM IS NOT JUST A DIET

Veganism, as a philosophy of life, is not just about saying no to animal food. It's a choice.
The way we express ourselves is more than words, and it has always been that way. Wearing cruelty free clothes and accessories is also a statement of being a sensible human being. Being stylish and cutting edge is not the antithesis of caring for the environment. On the contrary.
Compassion is not an issue when it comes to fashion choices. Versatile materials are being used to create fab garments, no harm involved!
LA ENVIRO vegan watches for women are the synthesis of our love for modern aesthetics, and the need to be responsible for living beings, and therefore the planet.

CRUELTY-FREE AND ECO-FRIENDLY

We all are witnesses of what scientific research has shown. Animal abuse is linked to violence against humans as well, as there are cases closely tied to domestic violence. Why spread this further?
It's all a matter of choice. Knowing that you love and respect for living beings matters. To all of us. It takes no time and effort to make a choice. Deciding to be conscious and caring is what we should all aim for.
For thousands of years, people have been treating animals and each other with cruelty. People in the past have been using and abusing animals in almost every way possible. For example, people wore buffalo (American bison) garments. It was on such a drastic scale that buffalos nearly went extinct due to a combination of commercial hunting and slaughter. That was the fashion of the 19th century. Now it is time to stop. We are on the verge of a big change, in the way we perceive our environment and ourselves.


STRIVING TOWARDS A GREATER GOOD

We are a part of nature, and the way we treat nature, we treat ourselves, indirectly.
When we look at a watch, not only do we see the time, but we see ourselves and our self-image.
Wearing a LA ENVIRO watch signifies you do not only have a good taste, but also a caring soul.
Trying to harmonize yourself with modern standards does not mean you should abandon humility.
Do not deprive yourself of the things you need and love, just be honest with yourself and think about the impact your choice has on others. Style is great, but caring is greater.

IT'S YOUR CHOICE

Wearing vegan accessories is about both. It's a lifestyle change for the better. Like feeding two birds with one scone. Animal lives matter, as well as human lives. The socio-economic changes we're facing today have not only an effect on us but on every single creature as well. We all sense that something's going on. It's time to make a difference. It's time to show that we care about others. It's our responsibility. We are responsible for ourselves, and our descendants too. Let's show them that we are conscious and conscientious humans, that we are one with nature: its goodness, elegance, and beauty.