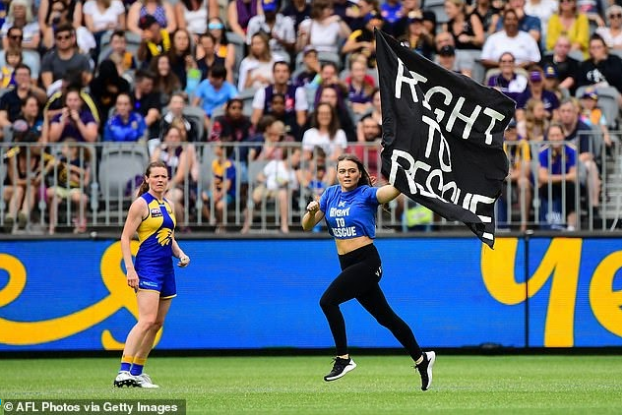 Who Is Animal Rights Activist Tash Peterson aka V-gan Booty?
Tash Peterson is 26 years old and an animal rights activist based in Perth, Australia. Tash loves animals and is willing to do anything to protect them. She has become pretty famous and has made it to the news many times and even got arrested. But nothing can stop her and she wants to liberate animals from cruelty. We were lucky to ask a few questions to Tash and let's get into that.
Tell us something about your childhood.
I grew up in Perth, Western Australia and from a young age, I had a strong passion for the environment and wildlife, particularly marine life. I am so grateful to have had so many incredible experiences travelling remote Western Australia with my family and had many opportunities to swim with dolphins, snorkel on some of the most incredible reefs in the world and overall spend a lot of time in the great outdoors. My childhood dream was to become a marine biologist and I recall studying dolphin species in the many educational books I owned, as well as watching the David Attenborough series. I was very connected to nature and was very environmentally conscious from a young age.
When did you become vegan and get involved in vegan activism?
I became vegan overnight just over three years ago when I watched a documentary called Food Choices. From that moment I knew that I would never support such violent industries again. I became passionate very quickly and began posting animal rights and environmental content online immediately. A few months after going vegan, I created an animal rights clothing brand, V-gan Clan as I wanted to wear clothing with a powerful message to advocate animal rights and could not find anything of the kind online.
PC - crunchy-vegan.com
I became involved in animal rights activism when I discovered Anonymous for the Voiceless and The Save Movement on Facebook. I became quite involved and regularly attended the Cube of Truth outreach events and vigils to bear witness to animals at slaughterhouses. Soon after, the Perth Direct Action Everywhere chapter was created and I found my true calling to activism. I thrive from doing direct action disruptions and it is astounding to see the impact that we have created here in Perth. We have received endless media coverage, nationally and internationally, which is forcing animal rights into the public dialogue. We are a very serious set of activists and the public is beginning to recognize that. I am now noticing a significant increase in support from the public, as not that long ago I recall many people retaliating with hatred and abuse towards our protests. Of course, that still exists, but times really are changing.
Last year, I began to do my own personal activism and was surprised by the impact that it created. On numerous occasions, I went inside local supermarkets to demand transparency from these companies as well as expose the inherent cruelty in animal agricultural industries to the public. Some of my actions involved wearing a cow onesie with a sign exposing the dairy industry, and on another occasion, I wore a slaughterhouse worker costume whilst blasting the screams of animals in slaughterhouses inside the supermarkets. Recently last week, I dressed as a pig slaughterhouse worker selling human meat. These actions all received media attention, therefore reached a mass audience with the animal rights message.
Earlier this year, I ran onto a field during an Australian football match and held a sign saying 'Right to Rescue'. The purpose of this action was to bring light to the absurdity of prosecuting innocent people who are exposing animal cruelty and rescuing animals from places of violence, whilst those who work in these industries remain protected by the system. I truly believe that civil disobedience is essential to creating social change and achieving animal liberation.
What are your best moments whilst being an activist?
I absolutely love being involved in direct action and working alongside incredible animal rights activists. Experiencing the impact that my activism has made has been incredibly rewarding and I feel as if I have found my life calling.
I have received endless messages that have really touched my heart, for example, this message which was sent to me after I did a supermarket action: "You changed my life, Tash, love you so much you really gave a strong impact and now I and my son's life can change the way we eat and drink! I love you for showing ur devotion and love for animals! I hope people can take this seriously. I can't believe what humans do to poor animals. People are so blindsided and I was blinded sided too and now I know the truth".
I have recently begun using the latest social media craze, TikTok, to advocate animal rights. Unlike Facebook and Instagram, your content gets pushed out to people that do not follow you; so that is a mass amount of non-vegans. I have been overwhelmed with the impact of this platform and my animal rights content has received 2.5 million views in the past week and 4.5 million in the past month. A majority of this audience are children and teenagers, which makes this platform even more important to create change in our future generations. I receive messages daily from kids and teenagers saying thank you for inspiring me, I am now going vegan.
What is your goal?
Animal liberation!
My goal is to become a full-time activist and do as much as possible for the animals as well as inspire vegans to become activists.
At LA ENVIRO, We believe that animals shouldn't be abused for food, dairy, or fashion. People should be kind to every kind of life. We would like to thank Tash for her valuable time and wish her luck for her future endeavors. Tash is a hardcore animal rights activist and we are sure she will keep going no matter what.